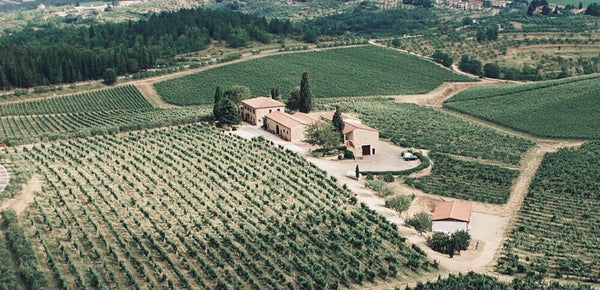 Casa Emma
The villages of Barberino Val d'Elsa and Tavarnelle Val di Pesa are located in San Donato in the Chianti Classico region. The western part of Chianti Classico, defined by these villages, is bounded in the east by hills rising to a height of 600 meters. The area is embraced by the mistral winds blowing from the Tyrrhenian Sea, with which the winters are milder and the summers cooler compared to the inland Chianti Classico. As a result, the vines in the area bud early in the spring and the grapes enjoy a long growing season until the harvest in late autumn. The wines of the region are therefore exceptionally refined, with soft tannins and balanced acidity.
The Casa Emma winery, founded in 1969, is located in a thicket of cypress, laurel, strawberry and heather trees at an altitude of 420 meters above sea level. The hills shaped by nature and the sedimented soil enable the farm's vines to have a growing medium full of necessary minerals and enough water. The farm is owned by the Bucalossi family, although its name is a tribute to the previous owner of the farm, Emma Bizzarri. Although tradition and history have always been important to Fiorella Lepri and her son Alessandro Bucalossi, the farm does not hesitate to use the know-how made possible by the latest technology. The weather conditions in the shelters are closely monitored using the VineSense sensor, so that threatening diseases can be reacted to immediately. The nurseries are organically certified and use a precisely calculated, minimal amount of copper and sulfate. With the seaweed extract used since 2013, the use of copper in nurseries has even been halved. The guideline of garden work is the effort to live with nature, not so much to control it. Casa Emma's nurseries have been certified for organic production since 2015.
Although Merlot, Malvasia Nera and Canaiolo are also grown on the estate's 25-hectare vineyards, the focus is on Sangiovese, known as the crown jewel of the region. The Sangiovese vines growing in Vignalparco's two-hectare vineyard are mainly taken care of by a flock of 80 geese that visit the vineyard throughout the growing season. The presence of geese enriches the organic matter of the shelter and the nitrogen, potassium, magnesium and cation concentrations of the soil. By eating grass and insects that are harmful to the vines, the geese help keep the shelter clean and healthy. With the geese, tractors and other mechanical machines are no longer used in the yard, due to which the airiness of the previously stressed and excessively compressed soil has been restored. According to the farm's winemaker Marco Salvador, the change is also visible in the wine produced by the vineyard, which is made from grapes that have reached perfect phenolic maturity.
The farm's annual production is currently 85,000 bottles.
https://casaemma.it/en/