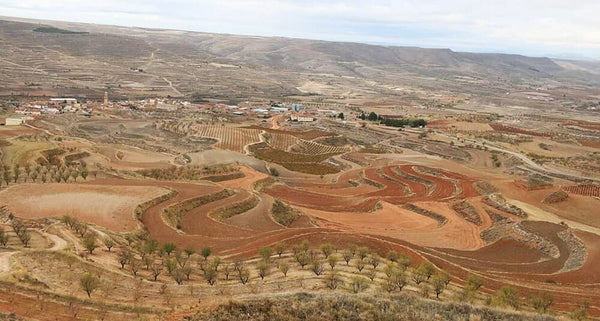 Bodegas San Alejandro
The San Alejandro family business has come a long way from one generation to the next. The farm was founded in 1962 in Miedes, Zaragoza, and it focuses its production on the DO Calatayud area in Aragón. The main variety in the farm's production is Garnacha, but Tempranillo, Syrah, Garnacha Blanca and Viura are also grown on the farms. The farm has a total of 150 farmers and 950 hectares of vines, which are divided into 1250 separate plots. A significant factor in the farm's wine production is the location of the vineyards at an altitude of up to 700-1100 meters, which causes a significant variation in temperatures during the day. In addition, the age of the vines exceeding 100 years, the late harvest time of the grapes, refraining from irrigation systems, and the limited production quantities contribute to the fact that the farm's wines are concentrated and have ripe fruit. Hand-harvesting and the richness and diversity of the orchards' land are also behind the quality of the estate's wines, as the soils vary from the white limestone of the plains to the red clay and slate of the slopes.
The selections of Viinitie include red wines made from grapes from the old Garnacha vines of Marqués de Nombrevilla and semi-dry Viura from Viñas de Miedes. Garnacha vines grow 600-800 meters above sea level, where the climate causes the vines stress that is beneficial for quality, with long sunny days changing to cool nights.
The winery is extremely export-oriented, transporting up to 85% of all its production to more than 40 different countries.
https://www.san-alejandro.com/en/