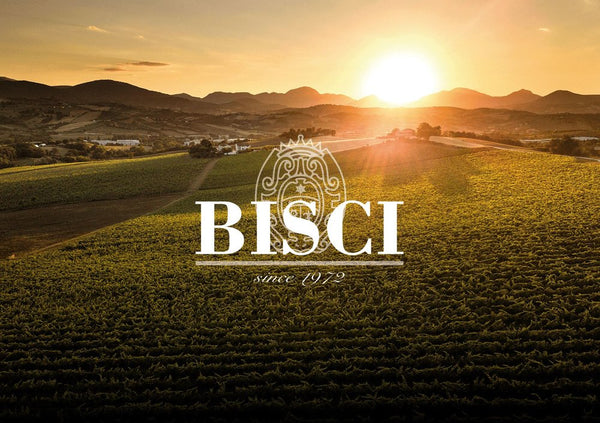 Bisci
Bisci is a 20-hectare winery founded in 1972 by the brothers Giuseppe and Pierino Bisci and run by Giuseppe's sons Mauro, Tito and Aroldo in the Marche of central Italy, between Macerata and Ancona, in the town of Matelica. The farm is located about 60 kilometers southeast of San Marino, in the area where the Apennine mountain range descends towards the Adriatic Sea. The production is focused on Verdicchio di Mantelica, which has a lesser-known quality rating than the neighboring farmer's Verdicchio dei Castelli di Jesi.
The vineyards are located approximately 300–370 meters above sea level. The rolling vine plots face south and enjoy a long growing season. 14 hectares are dedicated to the cultivation of white Verdicchio di Matelica, while six hectares are covered with Sangiovese and Merlot vines.
Bisci's production methods are organic and the farm is in the transition phase to organically certified production. Special attention is paid to ensuring that understory vegetation that is as favorable as possible from the point of view of winemaking grows in the orchards. Sometimes, after harvesting, the farm resorts to the use of organic fertilizers to increase the fertility of the soil. Giuseppe Bisci works as the farm's winemaker and is assisted by enologist Aroldo Bellelli.
https://www.bisci.it/en/index.html
Tule mukaan luomaan parempaa viinikulttuuria
Me Viinitiellä uskomme, että Suomi on valmis parempaan viini- kulttuuriin. Ihmiset janoavat laatua, vastuullisuutta ja tarinoita yhä useammassa lasissa. Siksi haluamme olla entistäkin enemmän tämän kulttuurimuutoksen soihdunkantajia ja tuoda paremmat viinit kaikkien saataville.
Liity Viinitien Grand Crew -yhteisöön ja olet mukana tekemässä parempaa viinikulttuuria.
Powered by Shopify © 2023, Viinitie Oy