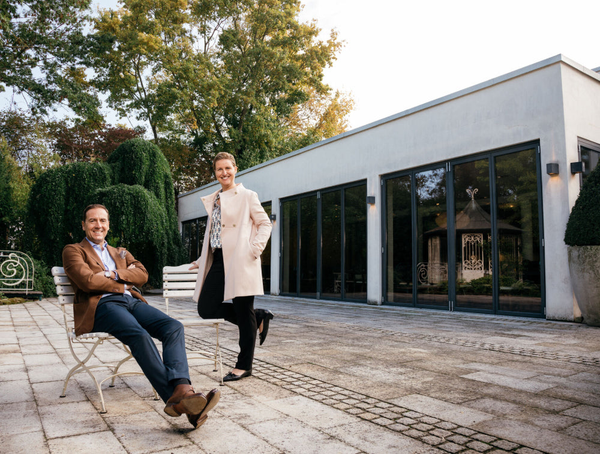 BattenfeldSpanier
BattenfeldSpanier's VDP winery is located in Hohen-Sülzen, in southern Rheinhessen. Spanier's family has several generations of winemaking experience. The family settled down to cultivate wine in its current location about 200 years ago. Founded in 1990, the Spanier winery operated until 1997 only under the Spanier name, but the merger with the neighboring farm brought Battenfeld along as well. Today, the farm is run by the son of the Spanier family, Hans-Oliver, dubbed "quality maniac", together with his winemaker wife, Carolin Spanier, who he married in 2006. The couple has no shortage of goodies - most recently they grabbed the "German Winemaker of the Year" title from the Vinum Weinguide 2018 publication. It is the same poppoo that publishes the prestigious Gault Millau, which annually lists the best wines in Germany.
Oliver started the organic conversion of BattenfeldSpanier plots already in 1992, when other farmers in the area looked at his actions with furrowed brows. The farm has operated biodynamically since 2003. Respecting the ecosystem, increasing soil diversity and expressing terroir in wines is the basic principle behind everything we do. Oliver has dried up his ideology logically: "Since I can't influence the light, I focus on the soil". The soil consists of lime and slate and respecting nature's own balance is the A and O of the operation. BattenfeldSpanier has six Grosses Gewächs plots. For the same reasons, the estate focuses on Riesling, which best expresses its soil, but also produces small amounts of Spätburgunder and Grüner Sylvaner.
With the marriage of Carolin and Oliver, the operations of the three wineries of the winemaking families were combined: today, the couple is responsible for the 30-hectare BattenfeldSpanier farm of the Hans-Oliver family, as well as the Kühling-Gillot farm, which Carolin took over in 2002, and the jointly founded Spanier-Gillot, all of whose wines are produced in the village of Hohen-Sülzen . Hans-Oliver is responsible for making the wine, while Carolin travels the world sharing the couple's wine philosophy, as well as taking care of the couple's laundry. Even though all the facilities work independently, they blow on the same coal. The wineries cover a total area of 60 hectares, where Riesling, Pinot Noir, Pinot Blanc, Silvaner and Chardonnay are grown.
Annual production is around 70,000 bottles.
https://www.kuehlingandbattenfeld.com/en/interconnected