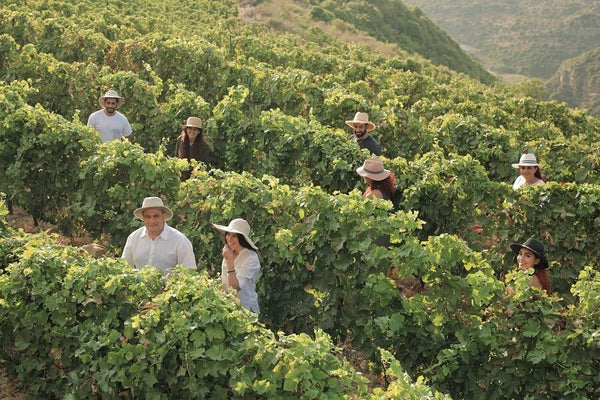 Batroun Mountains
It will certainly come as a surprise to many that you can find fresh wines in Lebanon as well. The secret behind Lebanon's highest quality wines is the location of the vineyards high above sea level. The wines of the Batroun Mountains are also obtained from the high slopes, 250-1450 meters high. The family farm's more than 12 hectares of vineyards are located on the slopes of the mountain in the area of the coastal town of Batroun. The plots, which are divided into six different garden areas, grow mainly on terraces, which makes it easier to work even in slightly difficult and rocky terrain. The values of the Harki family include managing their farmland with traditional methods, without chemical substances, using only organic fertilizers and sprayers. The growth of weeds is limited by plowing the ground and planting other vegetation in the nurseries. 80% of all time is spent in the vineyards instead of in the cellars. All the farm's wines are certified for organic production.
The orchards growing among the olive trees enjoy maximum sunshine and the winds blowing from the sea. However, the vines have to work hard to get all the nutrients they need from the dry land that is not artificially irrigated. Due to the difference in altitude, the days are hot, but the nights are cool, which is why the natural acidity and freshness of the grapes is preserved as they ripen to their optimal ripeness. The entire harvest is done by hand by the Harki family and a trained workforce. Before the actual harvest, some of the bunches are pruned, and only the best ripened ones are made into wines. Yields are low with each vine producing only about 1.2 kg of grapes.
http://batrounmountains.wine/
Come and join us in creating a better wine culture
We at Viinitie believe that Finland is ready for a better wine culture. People are thirsty for quality, responsibility and stories in more and more glasses. That's why we want to be even more torchbearers of this cultural change and make better wines available to everyone.
Join the Viinitie Grand Crew community and you are involved in making a better wine culture.
Powered by Shopify © 2023, Viinitie Oy