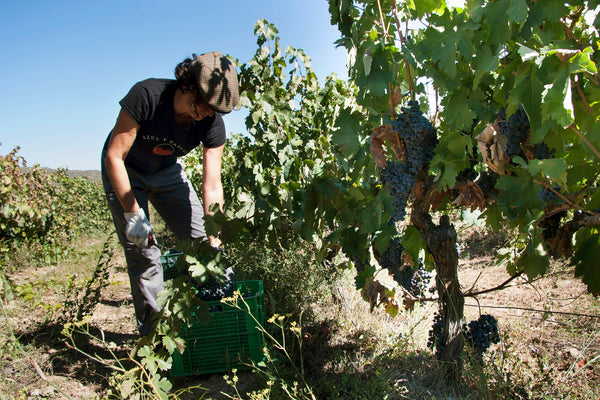 Azul y Garanza Bodegas
What kind of mental breakdown leads talented oenologists to make wine in the middle of the desert? In the case of Azul y Garanza, the question is quite relevant, as the winery is located in the middle of Spain's largest desert, Las Bardenas Reales, in the province of Navarra. According to the boundary-breaking winemaking trio, María Barrena, her brother Fernando Barrena and Dani Sánchez, the answer doesn't have to be far. It is found in the glass.

The unforgiving climate of the desert poses a challenge to vines. Large temperature fluctuations in night and day temperatures thicken the skins of the grapes, so that a lot of dyes stick to the grape juice and a wonderful tannic structure is formed in the wines. Chemical fertilizers or pesticides that burden the soil are not used on the farm. Annual production volumes are moderate and the harsh conditions produce concentrated grapes. The quality of the wines comes from healthy vines.

The trio has been making their wines since 2000, using organic methods from day one. María and Fernando's father owned a 2-hectare vineyard in the area, and little by little, more vineyards started to be built next to it. For the production of wines, the friends bought the premises of an old cooperative, which they renovated and furnished for their needs together. Barrenat and Sánchez were awarded a quality award from DO Navarra for their first bottled harvest, so the results can be considered successful. Behind the uniqueness of the wines are not only the growing conditions and uncompromising quality, but also Dan's work experience in the production of quality wines in Priorat at the Mas d'en Gil and Clos Mogador wineries.

Today, the friends have 45 hectares of nurseries under their care, of which they own 12 hectares themselves. All production is organic. The name of the winery 'Azul y Garanza' means blue and crimson. When these two colors are combined, the end result is a characteristic color for the farm's red wines, which is deeply dark and intense in tone.
https://www.azulygaranza.com/