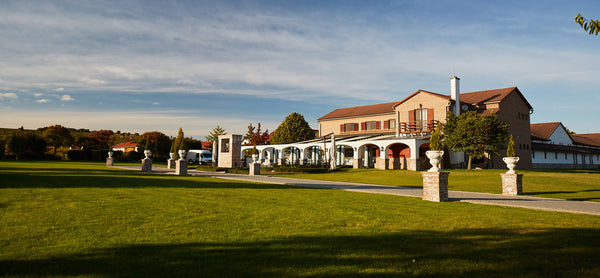 Attila Gere
When talking about Hungary's best red wines, Attila Gere's name cannot be omitted. Wine production has been part of the Gere family's history for seven generations, with their predecessors always passing on know-how to the next generation. Many people may not know that Attila Gere, who founded the estate that bears his name thirty years ago, did not drink wine himself for a long time, because in his opinion Hungarian wines did not reach the level he demanded of them. Gere preferred beer to unpleasant tasting wines. In 1977, however, everything changed when Attila's future wife Katalini's father poured her a glass of wine in his basement. Reluctantly and hiding his grimace, Attila took the glass to his nose, and unexpectedly an incredible spectrum of aromas emerged from the glass. After tasting the wine, Attila was confused and said that the locals couldn't have any understanding of what kind of treasure they had prepared. If he, as a beer drinker, liked wine so much, wine drinkers were bound to like it even more!
The Villány region, located in the southernmost part of Hungary, on limestone subsoil, was already known for its vineyards in Roman times. In the 18th century, the German-speaking Swabians began to develop the region's wine production both in orchards and in cellars, and the cellars built in these times are still in use at the wineries in the region. After the ravages of the grape aphid, many new and better grape varieties were developed in the area under the leadership of Count Zsigmond Telek, which drew international attention to Villány. Wines from traditional family farms that were taken over by department stores were exported to be enjoyed all over the world. After the communist era in the early 1990s, many of the old family farms were re-established, and like Attila Gere, the region returned to traditional winemaking methods. It is to thank these individual wine producers that today Villány is known as one of the jewels of Hungarian wines. Long traditions combined with innovative winemaking have made the region a significant forerunner in the country's wine production.
Love for nature has always been present in Attila Gere's life. He had his first 17-year career as a lumberjack and even today, when his schedule allows, he likes to take his daily 10,000 steps in the hills surrounding the vineyards with his dog Fric. However, the conversion of barns to organic production ten years ago happened primarily for practical and sensible reasons. Attila realized that by limiting the yield of the vines, they would easily produce 6-7 bunches. The unused energy plants could direct to their natural strength to fight against diseases, in which case pesticide chemicals would not be needed in their treatment. Attila also didn't want to leave the land poisoned for future generations, so giving up chemicals was an easy choice. In addition to the production of the Gere family's own orchards, grapes purchased from other farmers are used, which as a whole create what Gere represents today. Both the family's and other farmers' nurseries follow the same quality criteria, and the mutual trust between Gere and the farmers is strong. As a whole, the sanctuary area covers 75 hectares.
The grapes, hand-picked from natural loess and red clay-filled orchards, are transported to modern cellars, where the wines age either in steel tanks or large oak containers. All fermentation processes take place through locally selected yeast strains, which contributes to the taste of Villány's character traits in the final wines as well. According to Attila, for example, bringing Tuscan yeast to the region would take away part of the region's own unique DNA. Gere's goal is to create wines that are recognizably wooly. After a light extraction, the wines are transferred to top-quality Hungarian oak barrels, where they are allowed to mature until bottling. The farm's number one wines Kopar, Solus and Attila are unique and unchanging advocates of the Villány region over time, who do not change when the trends around them change. Cabernet Franc is known as the absolute number one variety of the region, which, according to many prominent wine experts, produces its best wines precisely in Villány, where the variety is known as Villányi Franc. Cabernet Sauvignon, Merlot, Portugieser, Pinot Noir, Syrah, Medoc Noir, Tempranillo, Kékfrankos and Fekete Járdovány are cultivated as other varieties.
https://gere.hu/en/