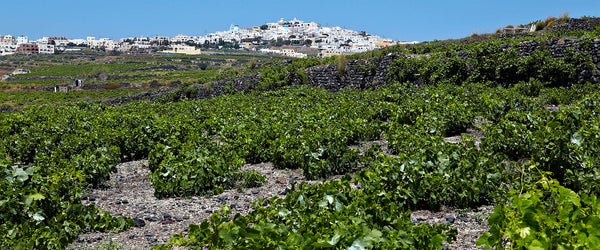 Artemis Karamolegos
In the world of wine, you often come across breathtakingly beautiful landscapes and vines grow in the most special areas. Undoubtedly, one of the most memorable and surprising areas is the island of Santorini, located in the south of Greece, whose volcanic and ashy land, stained black by lava, does not seem at first sight suitable for wine growing. Right off the bat, the island's nurseries may not even be distinguished from the vines, because the vines grow in exceptionally low, mound-like entities, which are locally called kouloura. This cultivation method protects these ungrafted vines, spared from vine aphids thanks to the soil, with an average age of up to 80 years, from strong sea winds and from the scorching hot sun of the southern latitude. Some of the most unique white wines that the wine world offers us today are produced here.
Born in Santorini, Artemis founded the eponymous Artemis Karamolegos winery in 2004 based on his grandfather's wine-growing tradition, and in less than twenty years, the farm has become one of the leading stars of the island's wines. The core of Artemis' winemaking philosophy is the emergence of the local volcanic terroir combined with experimentation and innovation. The farm's wines show how multidimensional wines can be produced on the island. The most significant variety in Santorini is Assyrtiko, which covers up to 75% of all climbing vines on the island. The variety is known for its high acidity, low pH and ability to produce intensely mineral wines. Growing up surrounded by the sea, wines made from Assyrtico often taste salty, which in turn adds layers to these wines with long aging potential. Assyrtiko is well suited for lees aging and manages to express its uniqueness also when aged in oak.
In addition to its own orchards, Artemis Karamolegos grapes are obtained from other local farmers who have incredibly old orchards, in some places more than 150 years old. In addition to Assyrtiko, the nurseries grow other local varieties, such as white Aidania and Athir, and red Mavrotragano and Mandilaria. In total, the farm produces 11 different wines, both white, red and sweet Vinsanto made from dried grapes.
The farm's annual production is around 160,000 bottles.
https://www.artemiskaramolegos-winery.com/en/