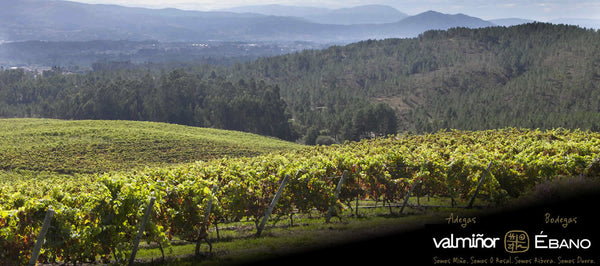 Adegas Valmiñor
Located in the northwesternmost corner of the Iberian Peninsula, Galicia is an oddball in the arid region of Spain. On the Atlantic coast, it rains almost every day and fog covers the green slopes populated by eucalyptus trees. From a Galician perspective, the Costa del Sol, with its sunny beaches and umbrella drinks, might as well be on another planet. Galicia's vineyards are mainly located in the Rías Baixas, just north of the Portuguese border. The vineyards are small in size and wine has traditionally been produced for the province's own needs. As a result, Galician wines are still largely unknown to the general public.
In recent years, the region's excellent potential has begun to be understood, while a large investment has been made in wine production. It has paid off: in Galicia you can find Spain's most interesting wines, completely different from the mainstream, fruity-fresh and pleasantly acidic, with both weight and nuance.
Adegas Valmiñor is one of the most interesting wineries in its quality classification region, DO Rías Baixas. Located in the sub-region of O Rosal, right next to the Portuguese border and the Atlantic, the winery was founded in 1997. The farm founded by Carlos Gomez uses modern technology, but respects the old Celtic history, which is also indicated by the four-symbol logo on the farm's labels. Due to its location, the climate of the house's gardens is mild, because in addition to the Atlantic, the gardens are influenced by the Miño river that runs through the area. The farms are located in valleys protected by hills, almost at sea level, and their soil is quite rich in minerals, which you can also taste in the glass. The farm owns 35 hectares of vineyards, which mainly grow Albariño, Treixadura and Loureiro. The shelters are divided into four different locations, the soil of which varies from silty clay and stones brought by the river to slate and granite. Our own orchards cover about 40% of the grapes needed for production.
For more than 20 years until the beginning of 2019, one of the region's most respected and experienced oenologists, Cristina Mantilla, was the winemaker of the farm. The quality of the wines has been purposefully invested, and the production facilities completed in 2002 are indeed some of the most modern in the region. In 2016, Valmiñor installed and became the first winery in the region to use solar panels in its energy production.
The farm's annual production is around 600,000 bottles.
https://adegasvalminor.com/