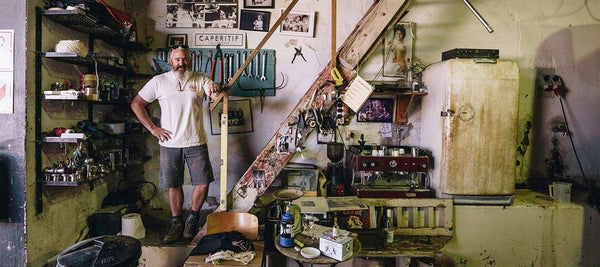 AA Badenhorst
Andre Adriaan Badenhorst spent his childhood near the vineyards of Constantia. Adi's grandfather took care of the vineyards of Groot Constantia for 46 years, so as a little boy Adi used to walk around the vineyards stealing grapes. Thanks to Jean Daneel of Buitenverwachting, Adi made his first wine at the age of 13. After graduating from Elsenburg as a winemaker, Adi did a few harvests around the world, for example at the estates of Château Angelus and Alain Graillot in France, and worked for nine years as a winemaker at the famous Stellenbosch winery in Rustenberg. In 2008, he bought a 60-hectare plot of land and a neglected 1930s cellar in Paardeberg with his cousin Hein, and has since cultivated his Kalmoesfontein farm using organic methods.

The Swartland wine region around the Paardeberg hill is best known for its old bush vines, some of which are up to 70 years old. There are a total of 180 hectares of these bush vines in the Siebritskloof area. Adi's vines were mainly planted in the 1950s and 1960s, and Chenin Blanc, Cinsau, and Grenache grow in the orchards. The nurseries are not irrigated artificially, so the rhizomes of the vines have to dig deep into the ground to find enough water and minerals for their growth. The orchards located on granitic soil face both north, east and south, which guarantees a diverse ripening of the grapes. In addition to our own orchards, grapes are bought from other farmers in the area.
The wines made by Adi's hands from the grapes produced by the vines have made the farm famous all over the world. A legendary winemaker, Adi is a member of the Cape Winemakers Guild and co-founder of Swartland Revolution and Swartland Independent. Winemaking in the farm's cellar is traditional and as simple as possible. The equipment used in winemaking is old and many are made of cement. All bunches of grapes are processed whole without removing the stems or crushing the grapes. White grapes are allowed to ferment and mature either in old oak barrels or cement tanks, and red grapes in cement tanks or open wooden vats. Post-fermentation maceration sometimes lasts up to 4 months, after which the wines are allowed to mature in 4,000-liter oak barrels. Nothing but a little sulfur dioxide is added to the grapes before and after fermentation.
Badenhorst's selections also include wines made from varieties otherwise abandoned in the region. If you find, for example, a bottle of Adin Palomino, you shouldn't miss the opportunity, but grab the bottle for better possession!
The farm's total annual production is around 800,000 bottles.
https://aabadenhorst.com/