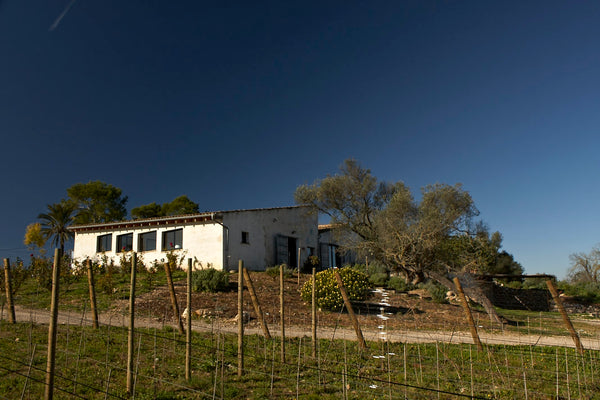 4 kilos
In August 2006, enologist Francesc Grimalt and Sergio Caballero founded 4Kilos Vinícola, and in September the friends made their first wine in milk tanks in their friend's garage. For next year's harvest, together with Apolónia Viticultors, the friends converted the old sheep barn of Francesci's parents into a small winery, and since then wines have been made using artisanal methods in the southeast of Mallorca, on the outskirts of the town of Felanitx.
Francesc previously worked as a winemaker at the Anima Negra winery, where he was known as the savior of the nearly extinct Callet grape. Sergio, on the other hand, is a musician who is, among other things, one of the founders of the music and multimedia art festival SÓNAR. The farm's name 4Kilos was born from the duo's initial investment, 4 million pesetas, which is equivalent to €24,000. The friends' idea was that a winemaker doesn't have to be a millionaire - it's enough to be passionate and ready to work hard.
From the beginning, Francesc and Sergio have relied on the support of the local winegrowers. Almost all nurseries grow vegetation typical of the area, which helps in the production of concentrated grapes, maintaining the porosity of the soil and maintaining a diverse microbiological life. The gentlemen's own vineyards covering an area of ​​15 hectares and the orchards of partner growers are located in different villages in the north and south of Mallorca, and therefore do not belong to any one DO area, but are bottled as IGT Mallorca. Mainly, the vines grow on Call Vermell soil, which is the local name for a mixture of clay and gravel with a high iron content, which dries quickly on the surface and retains water in the lower layers of the soil, allowing the grapes to ripen. The nurseries grow not only Callet, but also Manto Negro, Fogoneu, Cabernet Sauvignon, Merlot, Monastrelli and Syrah.
At the nurseries, mixed farming is preferred, while Francesci is completely against clones. He thinks of nurseries rather as forests, the diversity of which helps reduce problems. Efforts are made to promote the existence of beneficial predatory insects such as mosquitoes and bees in nurseries. Nettle and sage are used to strengthen the leaves of vines against various pests.
Winemaking is not done according to the rule book, but decisions and changes are made based on the annual harvest. The grapes are carefully selected in the cellar, after which both alcoholic and malolactic fermentation takes place in oak barrels and steel tanks. The length of maturation, the size and age of the barrels, and the quality of the oak also vary depending on the vintage. 4Kilos also works with the charity organization Amadip Esment, through which support is offered to people with mental health problems. The members of the organization are involved not only in the harvesting of 4Kilos, but also in the winemaking.
http://www.4kilos.com/