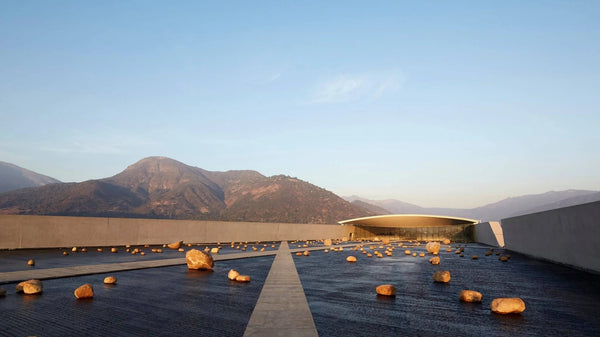 VIK
When you decide to make one of the world's best wines, you can't help but put everything into play. This is what Alex and Carrie Vik did in 2004 when they established their winery in the northern part of the Rapel Valley, in the Cachapoal Valley. After two years of soil research, it was decided to plant the first vines in the Millahue valley, whose name means "place of gold" in the native Chilean language. The valley offers a variety of microclimates for vines to grow in, and plots opening in different directions that enjoy the coolness of the coastal winds. As a result of an architectural competition organized in 2007, a state-of-the-art, environmentally friendly and visually impressive wine house was built, the design of which was carried out by the Chilean architect Smiljan Radic. The buildings raised between mountains and valleys respect the surrounding landscape with their minimalism. The project was completed in 2014, when the farm's tasting room was also opened. The farm's unique design has been noticed internationally, as VIK was just chosen 4th place in the World's Best Vineyards 2022 award gala.
VIK produces four different red wines and one rosé. Year after year, as the vines age and adapt to their habitat, the wines are even more multidimensional and long-lived. Today, the orchards cover 327 hectares and are divided into 12 small valleys. With more than 6,000 soil analyses, grape varieties, clones and rhizomes have been optimally selected to express the character of each plot in the best possible way. Cabernet Sauvignon, Carmenère, Cabernet Franc, Merlot and Syrah are cultivated on the beds consisting of sand, clay and gravel. The grapes are collected by hand from the orchards at night, when they can be harvested in as cool conditions as possible. Head winemaker Christian Vallejo is responsible for fermenting the grapes with their natural yeast strain, and allows the wines to mature in new and used French oak barrels for the required time. The farm has also produced amphorae from the clay of its own orchards and oak barrels from oak trees on its own land, and experimental batches of wine are prepared and matured in these vessels.
To minimize its ecological footprint, VIK recycles the irrigation water it uses in its nurseries, nurtures a 10,000-hectare natural wood area by planting more trees to preserve a negative carbon footprint, supports biodiversity to enable a healthy habitat for many wild animals, and utilizes solar energy and natural cooling in the winery's operations. Tila recently received the Certified Sustainable Wine of Chile certificate.
At VIK, science, technology and know-how create the foundation, the engine of which is passion, and the result is art.
https://www.vikwine.com/en/