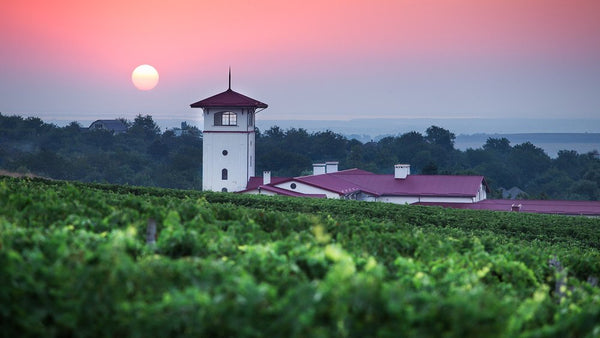 Lefkadia
In the Caucasus, an area embraced by the extreme continental climate in Krasnodar, southern Russia, the vine can just about grow without having to dig underground for shelter during the cold winter season. Here, in the village of Moldavanskoe, is located the Lefkadia winery, which saw the light of day in 2006. Mikhail Nikolaev, who visited the region a couple of years earlier, was inspired by the nature of Kuban so that the idea of premium Russian wines was born. Mikhail was also convinced of his idea by the famous oenologist Patrick Léon, who became the farm's consulting winemaker. In the resume of the since-deceased Léon, you can find modest entries about employment, e.g. From the Mouton-Rothschild, Opus One and Château d'Esclans estates.
The Lefkadia winery is located at the same latitude as Bordeaux, and the soil in the area consists of limestone, calcareous clay and red clay, depending on the location of the orchards. Since 2014, the orchards have followed organic principles and all grapes are picked by hand. Since 2008, the vineyards covering 210 hectares have been consulted by Gilles Rey, who, like Léon, has also worked for Mouton-Rothschild. Artificial irrigation is not used in the nurseries, even in the hottest years. The responsibility for the project started by his father is now borne by his son Mikhail Mikhailovich Nikolaev, an enthusiastic kid who has traveled the world and grew up in several different countries, who has enough energy to share with others. The Lefkadia winery was the first producer in the region whose cellars were designed to use gravity to move the wine. The grapes are cooled before fermentation and vinified, depending on the wine style, in steel tanks, oak barrels, cement tanks or clay vessels. The 225-500-liter oak barrels are mainly French, made by Taransaud and François Frères, although there are also a few Hungarian barrels. No animal-derived substances are used in the brightening process.
Viinitie's portfolio includes Cabernet Franc from the Likuria series, which grows from calcareous clay soil, and several different varieties, White Blend. In addition, we received a small batch of extremely sophisticated sparkling wine produced using the traditional method, whose consultant has been Rodolphe Peters, known for his wonderful champagnes. Only 20,000 bottles of the three different sparkling wines belonging to the Temelion series are produced each year.
Lefkadia's wine production is divided into a few series, with an annual production of around 650,000 bottles.
Tule mukaan luomaan parempaa viinikulttuuria
Me Viinitiellä uskomme, että Suomi on valmis parempaan viini- kulttuuriin. Ihmiset janoavat laatua, vastuullisuutta ja tarinoita yhä useammassa lasissa. Siksi haluamme olla entistäkin enemmän tämän kulttuurimuutoksen soihdunkantajia ja tuoda paremmat viinit kaikkien saataville.
Liity Viinitien Grand Crew -yhteisöön ja olet mukana tekemässä parempaa viinikulttuuria.
Powered by Shopify © 2023, Viinitie Oy