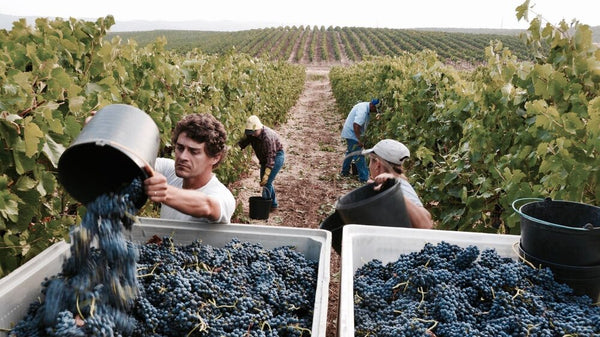 Cortes de Cima
It all started when the Danish-American couple Hans and Carrie Jorgensen jumped on a sailing ship named Gazelle la Goelette in 1988 and headed from England towards Portugal. The couple ended up in Alentejo, which reminded Carrie of her California home, and where Hans fell in love with the Mediterranean sun. Contrary to the trends of the Vidigueira region at the time, they decided to start cultivating red varieties, including the illegal Syrah variety of the region, for which they said the climate was perfect. First, the couple started working on their land. Hans built a dam and together they planted sunflowers, tomatoes and melons to pay their bills. In 1991, the couple had a son, Thomas, and two years later a daughter, Anna. The children were followed by bunches of grapes, and finally in 1998 the first wine, Incógnito, a unique Syrah from the Alentejo region, was launched. Thanks to the international attention the wine quickly gained, Syrah was soon accepted as the official variety of the region.
Vines are grown in two areas, at the Cortes de Cima winery near Vidigueira, and on the Atlantic coast near Vila Nova de Milfontes. Vidigueira is the southernmost appellation in the region, where wine has been cultivated since Roman times. Vidigueira is bathed in sunshine with annual hours of sunshine reaching up to 3000 hours on the slopes of Serra do Mendro. Hot and dry summers are tempered by occasional cool Atlantic air currents. The soil varies from clay on top of limestone, shale and gravel to granite. The farm's oldest vineyards, planted in 1991, are located here, after which some of the wines are named. Looking for a cooler climate, Hans and Carrie ended up in the Zambujeira Velha region, where in 2008 they planted 60 hectares of mainly white varieties just 3 kilometers from the ocean. In accordance with the maritime coastal climate, the orchards have mild conditions even in summer, fog is common and the cool sea currents and the nearby Mira river guarantee the grapes a long growing season and slow ripening, which means that the grapes retain their acidity and freshness.
The farm wants to take good care of future generations and the common earth. Cortes de Cima's vineyards are being converted to organic production, other vegetation grows between the rows of vines, the vineyards are irrigated sparingly, and the living conditions of the area's fauna and birds are protected. The winery itself runs on 100% solar power, all the winery's waste is recycled, the premises are lit with natural power and cooled without additional energy, and the wines are packaged in an environmentally friendly way.
https://cortesdecima.com/